Celia Berrell's Science Rhymes
What do salmon eat? Find out by listening to A Food Chain
Science Rhymes provide an enjoyable way to befriend science in small packages.
Most poems are relevant to the primary science curriculum. Students and teachers use these resources for lessons, science projects, Eisteddfod recital contests and even theatre plays by:
buying the Kindle eBook version from Amazon Australia
checking out the video / audio / printed poems displayed at the bottom of each webpage
WHAT'S HAPPENING?
With support from the Regional Arts Development Fund, Science Rhymes have been checked for their scientific accuracy and educational relevance by James Cook University's Science Educator Dr Clifford Jackson.
There are no poems relating to human reproduction within these collections, so as to avoid any concerns about the age levels of viewers. Links to other websites have been carefully considered.
Scary Shadows
Energy and change
Light
Light
Shadows; sunlight; artificial light
Scary Shadows by Celia Berrell
My shadow on a sunny day
when standing clear of any tree
starts at my feet and makes a shape
of black that looks a bit like me.
But when it's dark a table-lamp
will cast a shadow on the wall.
And down the hall the shape it forms
will hardly look like me at all.
The shadow from a light close-by
creates a kind of monster shape.
That slithers round the walls and doors
like vampires in their long black capes.
When lights are dim the shapes look weird.
We conjure-up all kinds of gloom.
There are no monsters, vampires, ghosts.
It's just the shadows in the room.
Aurora Borealis
Energy and change
Forces
Magnetic Fields
Earth; solar wind; Magnetosphere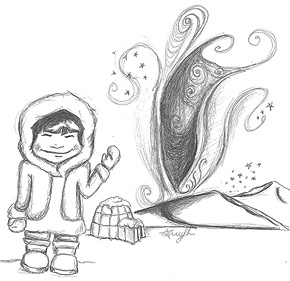 A Food Chain
Life and Living
Animals
Eaten and be eaten: feeding relationships
Food-chain; phytoplankton; photosynthesis
Click to listen to A Food Chain
Why
Investigation
Facts & Myths
Investigating Science
Changing Views
Why by Celia Berrell
Why as a child is a popular word.
It shows that we want to know more of our world.
And sometimes we learn
some incredible things:
Like why the sky's blue
and what is a gnu
and how you can catch
the measles and 'flu.
And back in the past
how much harder life was
because of the things
that nobody knew.
It's part of our nature to want to know why
despite that the answer's a truth or a lie.
And sometimes we learn
some incredible myths:
Like why Santa comes
only once a year.
And when will the Easter
Bunny appear.
Descriptions of monsters
that cause us great fear.
And how crystal balls
make everything clear.
While we're a child, all answers seem true
(until we get older and think them all through).
But even as adults we frequently find
it's not always easy to change our mind!