Poetry in Science
Why are the Earth and Moon falling out? Find out by listening to The Battle of the Bulge
SEVEN REASONS WHY POETRY IS PALS WITH SCIENCE:
A POEM can state the obvious without making us feel foolish
TOGETHER they can explore comparisons between familiar and unfamiliar ideas
POEMS are free to create bizarre and amusing mnemonics
STANZAS provide a secure framework, making new science concepts easy to take in
RHYMES help us think ahead, anticipating the next rhyming word
VERSES break up information into manageable segments
POETRY can be read and recited many times
Teachers who want to make their science lessons reach out to their students include a poem.  High-achieving students take on the challenge to write their own science poems.
Springing To Action
Energy and change
Forces
Forces and their effects
Springs; flexibility; energy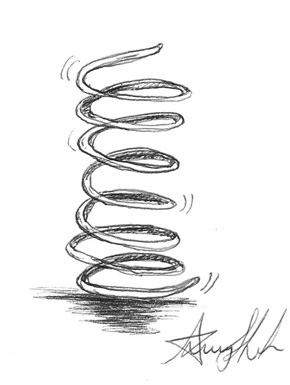 Click to listen to Springing To Action
Springing To Action by Celia Berrell
Sprrr-ing is such an active word.
You can hear it gathering up its force.
Ready to burst out a kind of ping.
Releasing its energy on a course.
It's the name we give to the season when
all living things gear up to abound.
We use it to label a water source
that's pushing its way through the spongy ground.
It's also the name we give a device
that bends and moves but will not crack.
It's often metallic and flexible.
If it's pushed or pulled, it does the same back.
A spring isn't always a coiled-up wire.
It could be a curve or a V-shaped bend.
Like a bow that shoots arrows through the air
or a pair of tweezers with open ends.
A spring can be made from a plastic mould.
a blister or mound or a curvy dome.
They're hidden in keyboards for typing things
or used on the pad of an old mobile phone.
A pen you can click, a used paper-clip.
A clock that goes tick, a peg you can grip.
A doorknob that twists. A bike bell that rings.
It's likely they've all got some kind of Sprrr-ing!
Battle of the Bulge
Earth and Beyond
Forces
Gravity
Earth; Moon; Gravity; Friction; Tides