Site Contributors
Why is water exceptional? Find out by watching the video clip Ice Floats
Celia Berrell
Born in England, Celia's literary icons include Edward Lear, A A Milne, Roald Dahl and Isaac Asimov. Celia Berrell pursued a career in teaching maths and science for four years before travelling to Australia. She has regarded her life in Australia as a working holiday ever since.  You can watch Celia creating a science poem on this ABC Open video by Suz Cray (2013).
Some poems from the Science Rhymes website have been chosen for school textbooks.  Springing to Action features in India's Next English 8 by Next Education (2017); Peace by Piece is in Malaysia's English Form 1 by Penerbitan Pelangi (2016); Mother Of Invention is published in the Canada's Nelson English 10 (2013); Town And Country Air features in the Irish school textbook Better English (6th Class) by Educate.ie (2013) and The Beauty Of It All is in the Australian secondary school textbook MacMillan English 7 (2011). Battle of the Bulge is incorporated in a Science Presentation on gravity by the Australian Science and Mathematics School at Flinders University SA. Celia's articles on poetry have been published in magazines such as Get Ahead Kids and Toastmaster. Her poems regularly appear in the CSIRO's children's science magazine Double Helix, and in its predecessor Scientriffic. They are found in blogs such as Australian Children's Poetry and anthologies such as the Tropical Writers Raining On The Sun (2008), Cracks in the Canopy (2010), Category 5 (2011) and Lost In Mangroves (2013). Award-winning poems include Fat Chance in the Cairns Post Inaugural Writing Competition January 2008 and Replanting Neurons in the California Institute of Regenerative Medicine's stem-cell awareness contest (2010).
Under the guidance of Associate Professor Hilary Whitehouse, Graduate Research Education, JCU, a grant from the Regional Arts Development Fund supported James Cook University Science Educator Dr Clifford Jackson in assessing over 100 Science Rhymes for their scientific accuracy and educational value.
In partnership with Australian artist Sharon Davson, a series of poems to accompany Davson's art is currently being prepared for publication. A sample of Sharon's colourful artwork appears throughout this site. Just click their images on the Environmental page to view them in full splendour.
Sixteen poems feature in the book 2000 Feral Pigs – my part in their downfall by Dr Peter "Piggy" Heise-Pavlov released in October 2009. This book relates Dr Heise-Pavlov's adventures and discoveries in Feral Pig research (this is not a children's book).
Celia is an award-winning speaker. The Best Of Both Worlds won the inaugural I Love Cairns speech contest in August 2009 and A Golden Opportunity in 2010. She delivers inspiring poetry presentations at schools such as Trinity Anglican School, Trinity Bay High School and Trinity Beach State School within the city of Cairns. Since 2010, she has co-ordinated science poetry recitals at the annual Science On The Oval event, hosted by Whitfield State School and James Cook University.
A selection of science poems generated through presentations and submissions are published in this website's blog pages as Your Science Poems.
Celia is a member and past-President of Mt Sheridan Toastmasters Club and a member of the Tropical Writers  & SCBWI.
Amy Sheehan
Amy Sheehan is a ski-coach from Wanaka New Zealand and a free-skiing competitor. In 2014 Amy was a finalist in the Women's half-pipe free-skiing competitions, representing Australia in the Winter Olympics at Sochi in Russia.  She is now based in USA.
Between training schedules, Amy loves to draw. Her illustrations have been published in: Puck The Garden Gnome by Jan Dibley (colour 2003); Tips The Koala by Jan Dibley (colour 2004); First Feet by Pip Sheehan (black & white 2005); Sam And Lilley At Cardrona by Pip and Amy Sheehan (colour 2008) and her SkierAmy comics.
Amy says she enjoyed creating the illustrations for Celia's rhymes because they conjure-up all sorts of funny pictures in her mind, and she is always learning something from them!
Sharon Davson
Sharon Davson grew up in south-east Queensland's Lockyer Valley. After studying fine art and starting a career in teaching, she chose to travel Australia and become a free-lance artist. The Davson Art studios, gallery and museum are located at Morisset in the Newcastle region of New South Wales. It is an Exploratorium of art, spirituality and intrigue. Davson's multi-faceted paintings are culturally and environmentally thought-provoking. They feature in many prestigious public and private collections around the world.
Celia and Sharon first met in 1978 (four days after Celia arrived in Australia). Through their friendship, they have worked together on a number of projects, including Sharon's first charity Artists For Life, which began advocating for endangered species awareness in 1990.
Sharon has kindly given permission for a selection of her art images to be displayed on this website. "Celia is a wonderful poet, and I am absolutely delighted she has written poems to accompany much of my art. I'm looking forward to their publication as I believe these books will bring joy and inspiration to many people."
Dr Clifford Jackson
Dr Cliff Jackson is a Lecturer in the areas of Science and Mathematics as James Cook University. Recent publications include Enhancing year 9 performance and engagement in science (2010). He co-ordinates James Cook University's pre-service teacher's participation in the annual Science On The Oval event, hosted by Whitfield State School, Cairns. The festival provides an exciting opportunity for primary school students to engage with science. Celia Berrell joined the festival in 2010 as the Alien Queen of Science Poetry. The following year, Dr Jackson supported her Science Rhymes Supervised project through the Regional Arts Development Fund. This has ensured Science Rhymes do not promote scientific misconceptions. Dr Jackson scrutinised over 100 poems and provided professional advice, providing the poet with valuable guidelines and experience to create Science Rhymes as an accurate educational resource.
Margaret Askew
Born in 1950's Melbourne, Margaret has always identified as being an artist – through painting, drawing and creative writing. She completed a course in Fine Arts at Brighton Technical College followed by a course in Decoration at Melbourne College. Performance poetry at Melbourne venues also became a passion until she moved to Cairns.
"I was inspired by the great beauty of Far North Queensland. I painted until my eyesight began to get weak, then poetry and writing took its place". She keeps busy writing a science-fiction novel and books on herbal remedies, and loves sharing photographs from her many fabulous outings to the beach and bush.
Harmonie Larsen
Harmonie Larsen has shared her insightful poems on this website for a number of years now, plus gave Celia Berrell's Science Rhymes one of its very-first book review! Harmonie's passions and interests are ever-expanding. They include music (particularly singing), reading (especially mythology) plus many things scientific and environmental. In 2015, while still at primary school, she played the lead role in Alice the Musical and delivered her first lecture at James Cook University – about her enterprising project The Mangrove Army. Although Harmonie is departing Cairns, we hope she will continue to share her poems and science projects.
I wish to thank:
My husband Peter Berrell for supporting me in my poetic endeavours. Angela Utley for coming up with the sensible suggestion of basing my work on the primary science curriculum. Pamela (my sister), Rebecca and Monica (my nieces) in Spain for their encouragement. My father Conrad (deceased) for his grammatical critique. My mother Barbara for telling me when my poems become too complicated. Keith Butler (deceased) for the support to start this website. Nicky Jurd and Kaj Haffenden of Precedence for their website management. Miriam McBride for her assistance in the initial website video presentations. Associate Professor Hilary Whitehouse for kindly finding time to give me so much helpful advice (and introducing me to Miriam). Pip Sheehan for arranging opportunities for me to try my work out on school audiences of 6-9 year olds (and for introducing me to Amy). Jasmine Dixon from Davson Art Studios for designing the book cover for Celia Berrell's Science Rhymes. Impulse Wedding Portraits & Tracey Hayes at Azure Photography Cairns, for permission to use portrait photographs. The Tropical Writers Group for their critiques and encouragement (and for introducing me to Dr Hilary Whitehouse). The Mt Sheridan Toastmasters Club for honing my poetry and speech presentation skills. And to all my friends who have patiently listened to poems and given feedback, thank you too!
Growing Teeth
Life and Living
Human Body
Digestive System
Health; teeth; animal comparisons
That wily smiley crocodile
when basking in the tropic sun
won't care two-hoots about his teeth.
One breaks – he'll grow another one.
The scary shark has teeth galore.
Three thousand's stored inside his face.
He won't get sore if one falls out.
A spare tooth simply takes its place.
The terrapins and turtles each
have zero teeth inside their head.
They crop and bite the sea-grass with
a sharp and horny beak instead.
A human has two sets of teeth.
The first grow while we're still quite young
yet start to fall out one by one
as adult teeth push through the gums.
But that's the lot. We grow no more.
No matter how antique we get.
So better keep them clean and bright.
Unless you want a plastic set!
Ice Floats
Natural and processed materials
Properties
The three states of water
Water; solid; liquid
Timmy's Mouth
Life and Living
Human Body
Needs of living things
Caring for human young; hazards; safety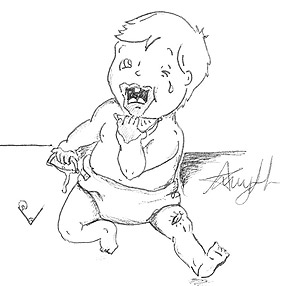 Click to listen to Timmy's Mouth